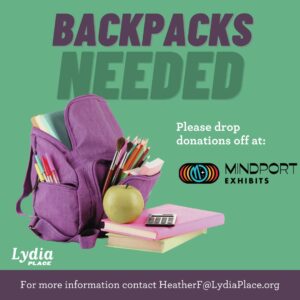 Summer Partnership with Lydia Place:
Lydia Place is a community based non-profit organization that assists individuals and families experiencing homelessness in the Bellingham area. They provide support, housing assistance, case management, education, counseling, and resource referrals to those in need. Imbedded in the housing support are parent support programs to address generational issues and whole family support. Through this they hope to disrupt the cycle of homelessness and foster ongoing independence and a sense of belonging in our community. Lydia Place also hosts a variety of events where community members are encouraged to come together to support these programs.
Here at Mindport we want to encourage and support the community that Lydia Place works with through partnering with them for their annual Back to School Drive for K-12. Mindport has a specially marked bin for donations and is accepting donations until August 3rd. Once the drive is complete these supplies will be distributed to children and their families during a celebratory event hosted by Lydia Place.  This partnership is part of an ongoing relationship we have with this important community organization.
Help set a child up for a successful school year by donating a new backpack!
This is a great way to support families experiencing housing insecurity by giving them confidence that their children have the tools they need to thrive at school. Backpacks are the top priority, new, unused lunchboxes, reusable water bottles, and other new school supplies can also be donated.
You can drop your donations off at our front desk anytime during our normal business hours: W-F, 12-6, Sat 10-5 & Sun 12-5.
If you want to participate but don't have a physical item to drop off, you can purchase things from their Amazon Wishlist instead.