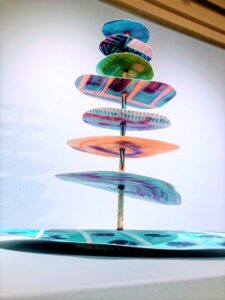 Let us introduce you to Cat Snapp, our fifth and final featured artist in the Spectrum show, one that explores human perceptions of color through the work of five regional artists. When I first learned about Cat's work, my impressions were optimism, energy and fun. As I've gotten to know her more over the years, and had the chance to see more of what she does in the studio, I've seen these characteristics persist. It's an especially important time for optimistic art for so many of us!
Cat created a series of 10 paper sculptures for this exhibit that were inspired by her relatively recent experience with rock cairns. I'm paraphrasing from Cat's artist statement.
As a transplant to Washington State who saw these rock stacks for the first time, I was struck by the visual of an unnatural, gravity-defying stack of rocks set in a rugged, unrestrained natural environment. Cairns are human-made stacks … that tell a hiker, "The trail is this way" or "Someone was here."
During this time of the COVID-19 pandemic, stay-at-home orders, and social distancing, I couldn't help but to embrace the cairns as a hopeful sign to others saying, "Someone else is here. We're not alone." The painted and drawn marks are intended to be loose, exploratory, yet repetitive and bright, as if seeking some semblance of joy and order in an uncertain time.
The sculptures themselves are light and delicate, but the shadows give the impression that the works are solid, heavy, precariously balanced stones. It's been a joy to have them in the gallery. Each time I walk through, I'm discover a new pattern, a new color combination or a new angle. Because the pieces are covered on all sides with pattern and color, they are a perfect art piece for visitors of any height! We've been lucky to have them at Mindport for so long. I hope you'll come in to see them soon.
We are in the final weeks of the Spectrum show, as we transition in to our fall programming. We look forward to your visit. 
In addition to the wonderful pieces that she created for us at Mindport, Cat also runs a small business in Everett, WA. We think her business ethos ties in especially well with our values at Mindport. Cat owns and operates a letterpress paper goods company.
On her website, she describes the motivation behind her product line this way:
Mail, tangible mail, brings delight as the handwriting on the envelope jumps out of the mailbox, bypassing the junk mail and bills.  Among all of the incredible digital tools incorporated into our lives, there is still power in ink on paper, and that's why Cat Snapp Studio exists!
When you buy and use my products, I want you to be excited about writing a note or jotting down a thought. I hope that by holding something tangible and handmade it highlights a moment in your day that doesn't involve a screen. And when your mom, or lover, or cousin twice-removed receives one of my cards, I want it to give them joy and make them feel appreciated. Because I put love and joy and sweat and genuine excitement into everything I make for Cat Snapp Studio.
You can visit Cat's website to shop so many beautiful designs and follow her on instagram.