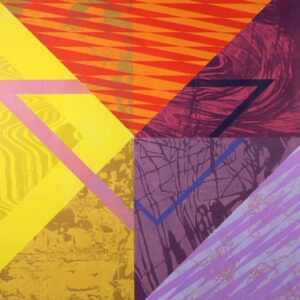 We're excited to share our fourth artist feature with you from our show entitled Spectrum: Exercises in perception, inclusivity, joy & theory.
Artist Christopher Hartshorne's contributions to this exhibit include a selection of works from his series entitled Iterations. This body of work is a set of unique woodcut prints that the artist created using a large selection of hand-carved relief blocks. The technique of creating unique impressions from a collection of visually related carvings allows Chris to create endless combinations of imagery. In this collection and others by the same artist, we can feel a sense of play as we notice similarities and differences in each composition. Color, shape and texture are incorporated in the rhythm, adding one more thing for us to enjoy when we sit with the work.  I asked Chris to participate in this show because I knew that any of the work in his portfolio would demonstrate a wonderful balance of theory and play. These human-scale pieces are installed high above the viewer's physical space at Mindport. Despite their distance from the ground, it is easy to see the many overlapping layers of details and colors.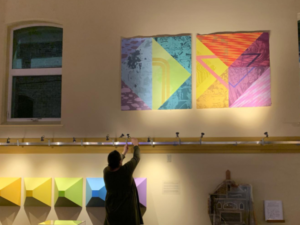 In the time since we first installed Spectrum, several of Chris' Iterations pieces sold. He graciously printed a brand new piece, just for us. This is an image of the initial installation of Chris' work–in October 2021! We're so grateful to be open again and to have equally exciting work on view.   Because of the scale and the process to create these pieces, each large print like this takes a long time to complete. We're lucky to have a few of these on loan for a bit longer at Mindport. We hope you'll come in soon to take a look!
You can see more of Christopher Hartshorne's work on his website, or by following his Instagram accounts: @anxiety_journal_ and @cahartshorne