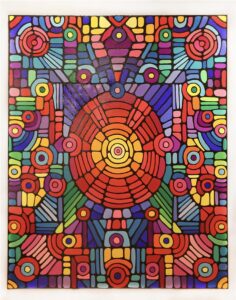 We're excited to tell you a little bit about the third artist in our ongoing summer show about Color Theory at Mindport. Luke's contribution to the show was unusual in that he made a commission piece to loan us for this exhibit. It's a large-scale acrylic painting that reminds me of mandalas, kaleidoscopes and masks all at once. The image below shows Luke's giant, brightly-hued painting installed in our Library area. Our visitors have loved the piece because of its joyful palette outlined in bold black lines. We also have our multi-paneled lens exhibit, Zoom In, placed so that you can see many versions of the painting at once.
It was interesting to meet Luke, someone I didn't know before planning Spectrum. I found out that he has been making artwork here in Bellingham his whole life. His grandpa encouraged his practice and supported his ideas over the years. Also touching was the fact that he and his grandfather spent many hours together at Mindport, both in the exhibit area and also behind the scenes, because they were friends of one of our former employees. Knowing Luke's long connection to creating and exploring at Mindport made including his work in this show more meaningful.
If you'd like to learn more about Luke's work and support his practice, you can follow him on Instagram here.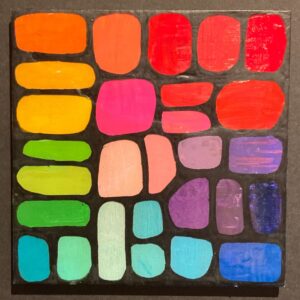 I was introduced to Luke's work for the first time several years ago when I bought the small painting shown here, at Dakota Art's annual 6″ x 6″ Show. This event in their gallery is a community fundraiser. Dakota donates the supplies, administrative costs of the reception and sales, as well as the professional gallery space for the month of November. Local artists donate their time and skills to create the works. The November 2022 6″ x 6″ show is happening again this year after a pandemic hiatus, and I know that I'm excited to see what new gems our local community of creatives will come up with for the exhibit. The opening reception will be during November art walk, Friday November 4. This event is an easy way to get to know the artists living and working in our community, to collect very affordable original art, as well as a great opportunity to support local arts education. The 6″ x 6″ pieces are all priced at $25, with 100% of the proceeds donated to the Allied Arts Education Project.
I decided to purchase this little painting of Luke's because of the obviously joyful color palette but also because of the wonderful texture contrast between the flat black outlines and the shiny surface of the colored pieces beneath. This choice made by the artist creates the illusion that the painting was made on glass, and each small shape shines like a little smooth rainbow-colored pebble.
I hope you'll come in to see the show soon.
-Margot
Mindport Creative Director