Mike Sonnichsen spent the first seven years of his life in Puerto Rico, snorkeling, collecting ocean glass, and exploring rain forests. The qualities of tropical light and color snuck into his consciousness yet lay somewhat dormant until he began architecture school. It was there he discovered printmaking as an outlet for his process and color sensibilities. Inspired by geometric order, he continues to explore color, systems, and the transformation of ordinary objects through print and photographic means. He currently teaches in the Art + Design Program at the University of Idaho.
For this show, he has lent us a selection of his intaglio prints and letterpress prints. Each series of images is made using traditional print techniques that Mike has reimagined for his contemporary print processes. We were especially interested in Mike's work for this show because of the way that it reinforces many of our interactive exhibits which invite curious play from our grown up guests as well as the younger people who enjoy our space.
We'll share some process images and Mike's explanations of each type of print. Today, you'll see a thorough explanation of Mike's intaglio process. The next email will explain how he makes the Lego Letterpress pieces. We hope you enjoy this behind the scenes peek into Mike's studio practice.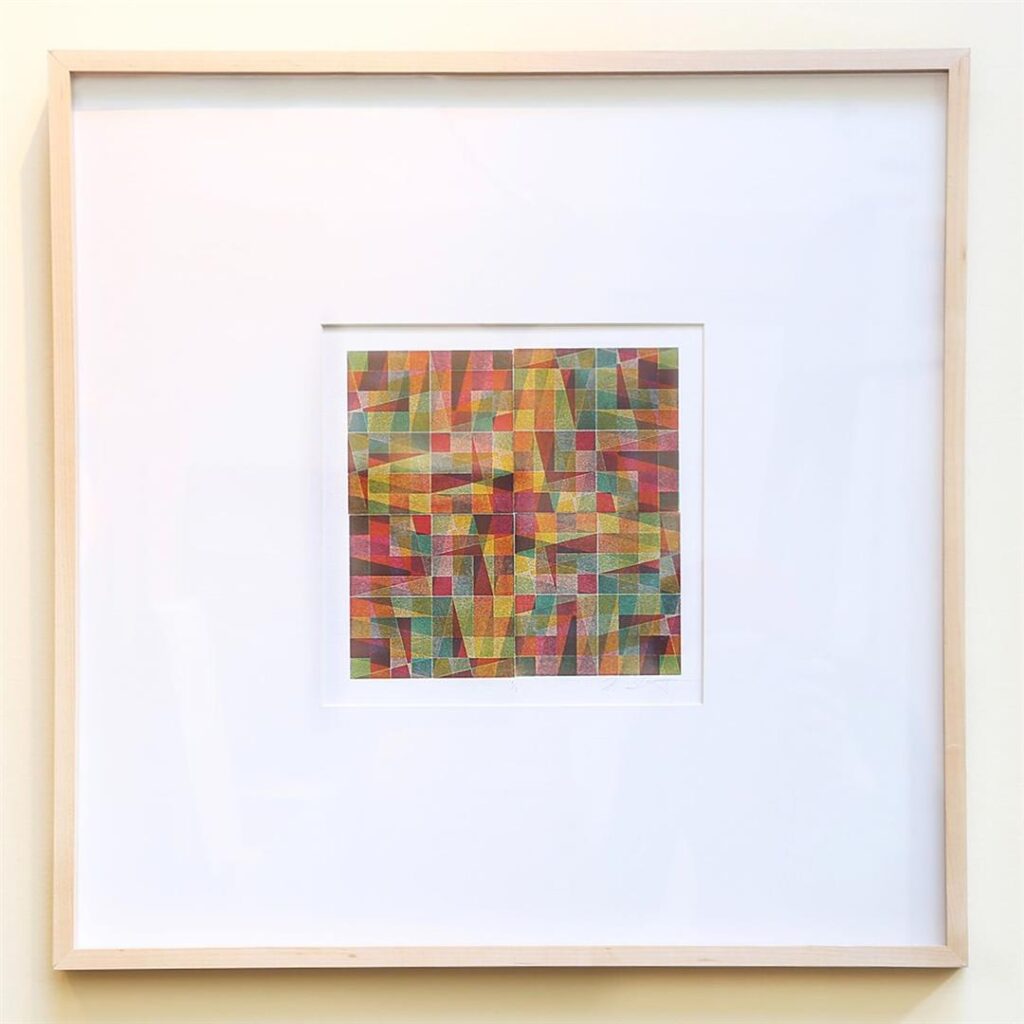 Shown here is an 8″x 8″ print from the Plate Work series. This series is made using three 4" x 4" square, etched and aquatinted, then relief inked plates. It simultaneously represents my oldest and newest work. I created these plates while an architecture student and learned to print them in a very unorthodox manner (relief rolled and printed face down on the paper and press bed). While challenging to print well, I may never exhaust the systematic color and pattern potentials they hold. The distinctive physical look of these prints and compositions with 4, 9, or 16 plate squares share an affinity with quilting, mathematical tiling, Op art, mandala forms, and textiles. The 1:4 geometry built into the plates and use of rotational symmetry offer myriad visual effects. While avoiding explicit reference to tantric art, mandalas as symbolic reiteration of the structure of the universe, or sacred geometry, I acknowledge that my work shares much with those traditions. I have been printing this series in earnest since 2008; each piece is unique (not editioned) and measures 8″ x 8″ on 15″ square paper.
Selection of prints that include various stages of 4″ x 4″ prints and one 8″ x 8″ (left).
Intaglio prints in progress soaking in water, awaiting their next layers of ink. Paper used for intaglio prints must be strong enough to withstand multiple soaks and runs through the press but also has to be soft enough to accept impressions.
This image shows one of the 16″ x 16″ Plate Works intaglio prints in this series that is receiving its final layer of rotated printing with red ink. The small intaglio plate can be seen upside-down (orange-backing) on the right hand side of the plate.